This is the kind of stuff, I'd like to see here. Maybe a short walk down memory lane, or let us know about what's going on in your life. Maybe a new grand child , you'd like to show all the world , or something about your self or your spouse, or even maybe one of those great kids of yours. Anything you would like to share , I'll put up here if possible. You can send me a picture electronically  ( prefer .jpg or .gif format ) or by regular

mail to me Leonard Akers 230 S. Jackson St.  Clinton , IN 47842  , if you wish to have your picture returned please enclose a self addressed stamped envelope, and I'll see that it is returned. Remember though I can't guarantee what the mail man does with it.


If you want a real trip down memory lane , by all means check out these great musical web sites. I must warn you their huge so don't get in a hurry, just crank up the volume and enjoy.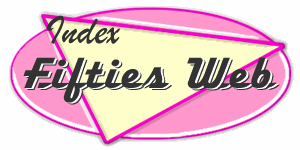 Do You Remember this Bevy of Beauties ????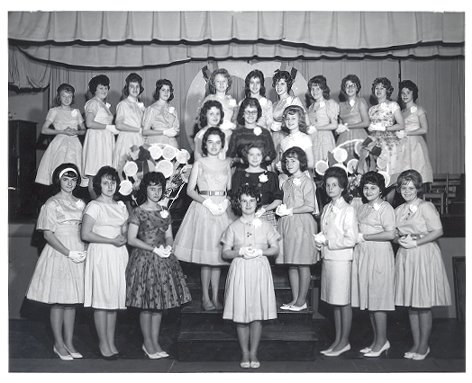 These Gorgeous Ladies are the "Triple Trio Girls"

a group formed from these three schools Crompton Hill, Universal, and Fairview from the spring of 1962

Row one:

Terry Crane, Virginia Reiber, Raelene McConnell, Betty Anderson (Class of 1967), Janice Carrera, Sharon Natalie, and Marilyn Brown

Row two: Kathleen Lubovich (Class of 1967), Linda Thomas, Brenda Smith (Class of 1967)

Row three: Patty Decker, Mary Uselman, Susan Van Duyn

Row four: Theresa Michalski, Donna Jean Lucas (Class of 1967), Kathy Wilson, Cheryn Kelley, Terry Dowdy, LeeAnna Johnson, Virginia Rolle, Linda Milan , Kathy Howard, Mickie Euriga, Vicki Wilson

Twenty of these sweethearts are graduates of the class of 1966  !!!!!!

How About These Hoop Masters !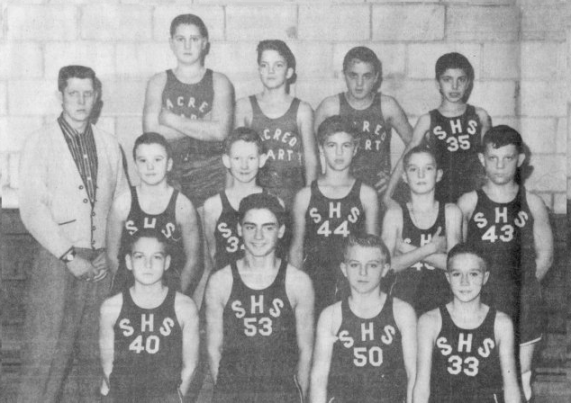 Scared Heart Team

These 13 Scared Heart students made up the 8th Grade basketball team in 1959 - 1960.

Coached by Sam Curry who currently resides in Erinwood Subdivision, they are from left to right:

Ramon Costello, David Kowinski, Ed Mackey, and Dave Marietta.  In the middle row are Jim Topolosek,

Tom McCleish, James "Louis" Johnson, Rick Berrisford and John Koma.  In the back row are Jim Magnabosco, Tom Yelich, Michael McConnell and George Barnes.

This picture was published in the "Daily Clintonian", Tuesday March 6, 2001 it was brought to the newspaper by Rose Parsley, mother of James "Louis" Johnson.

  Eleven out of the 13 completed there education by graduating from Clinton High School.  Jim Topolosek went on to graduate from Schulte High School in Terre Haute, and Jim Magnabosco went away to a military school.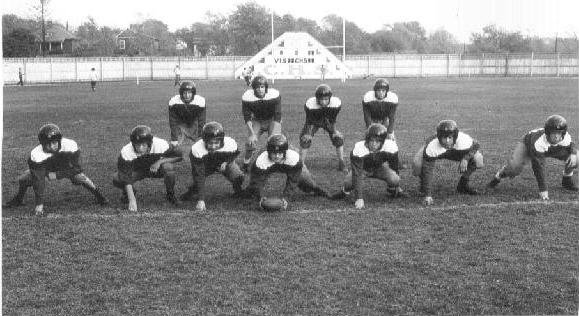 Picture of 1947 Clinton High School Football Stadium & the Sacred Heart Crusaders

Back field Left to Right  Potter, Mick Dick, Pee Wee, Lloyd Rivera, John Enrietto

Line Left to Right   Dick Giacoletto, Don Cvengros,Jim Ritter, Gene Dick, J. Craft, J. Hudson, Owen Lowry

picture courtesy of Robert Giacoletto